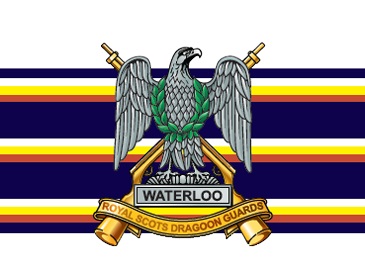 The Royal Scots Dragoon Guards Association
The Royal Scots Dragoon Guards (Carabiniers and Greys) Regimental Association
Home Headquarters The Royal Scots Dragoon Guards consists of a small team of people and is based in Edinburgh Castle. It is the focal point for all non-operational regimental matters including welfare, the Association and the Regimental Trust. The Regimental Museum and Archives are co-located with it as is the Regimental Shop.

The Royal Scots Dragoon Guards

3rd Dragoon Guards (Prince of Wales's)

The Carabiniers (6th Dragoon Guards)

3rd Carabiniers (Prince of Wales's Dragoon Guards)

The Royal Scots Greys (2nd Dragoons)

25th Dragoons
The Association has seven regional branches based throughout Great Britain;
Aberdeen and the North of Scotland
Glasgow and the West of Scotland
Edinburgh and the East of Scotland
North West of England and Wales
North East of England
South West of England
London and the South East of England
In addition there is a musicians branch made up of anyone who was in the Regimental Band and The Pipes and Bands.
Branch events are held throughout the year and anyone who served in the current or antecedent Regiments is encouraged to join a Branch or attend any events.
The point of contact for Association matters is the Assistant Regimental Secretary who can be contacted by email homehqscotsdg@gmail.com 
Telephone number for Home Headquarters is 0131 310 5102
The Regimental Shop sells a variety of Regimental and other items. All profits from it go to support the serving and retired members of the Regiments, and the Museum.